Your participation in helping us build community is the first step in getting Certicos Token listed on Coin Market Cap; and us conducting Swaps, and IDO Launches.  We are looking for 1,000 BETA Testers for our eSignature Blockchain System.  All you need to do is fill out the form below and give us your email address and your Crypto Wallet address that can accept BNB Smart Chain (BEP-20 Tokens) and we will Airdrop you one (100) Certicos Tokens.
That's it, it's that easy!! Just fill out your email address and valid BNB Smart Chain Wallet and/or just click  Register now to open a Certicos account and we will send you an additional one (100) Certicos Coins on the Certicosign.com platform*. Be on the lookout for your CERTICOS tokens within 24-72 hrs!


Note: Not sure if your Crypto Wallet is BNB Smart Chain compatible.  Click here and check on the BNB Smart Chain Explorer by entering your wallet address. If you don't have a BNB Smart Chain Wallet we have instructions below that can help you create one.
LIMIT FIVE (5) WALLETS PER IP ADDRESS
You do not have permission to view this form.
MetaMask Instructions for adding Certicos Token Network to your external wallet.
NOTE: MetaMask has adopted the BSC Mainet as a network formerly as Binance Smart Chain.  Certicos will automatically load with just a few fields.
Network Name:

BSC Mainnet
Chain ID:

56 (0x38 if that does not work)
Currency Symbol:

BNB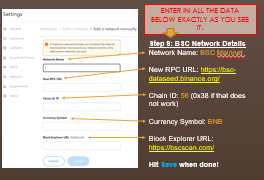 Import Tokens:
Token Decimal:

8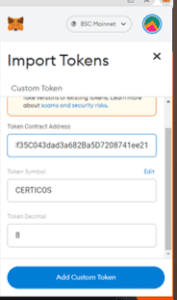 *If you Sign Up and Register to be a Certicos User we will double that and send you an additional one (100) Certicos Tokens. You can sign up as a Creator, Approver, or Authenticator. Make sure when you sign up you check your Spam email. Both gratis Airdrop and Sign Up Tokens take about 24, hours we will seed your account with one (100) hundred Certicos Coins; you may then move any portion to an external wallet (ex. MetaMask, Trust Wallet, etc.).  Just make sure you can add the BSC Mainnet as Certicos is a BEP-20 Token. You will have three (3) Free Documents; after that if you want to create eSignature Documents you will need to add a storage plan inside your account Dashboard.  You can use the Certicos Coins you were given to start your plan (BETA – 50 CERTICOS; STANDARD – 100 CERTICOS) or if you don't want to start a plan yet you can just HODL ! If you want, you can purchase Certicos with FIAT Currency payapps, USDT/ETH, USDC/ETH, USDT/BNB, USDT/BSC after signing up and going to your wallet at the pre-sale price of .032 USD each (MIN $10 USD; MAX $1,000USD). You may use the Certicos Tokens on the Certicosign.com platform and send eSignature documents, and sign up others as well.