What is a CERTICOSV2 Coin (BEP-20: CERT )
| | | |
| --- | --- | --- |
| 71% Minted At Launch | 500,000,000 | CERTICOSV2 CERT Tokens |
| 29% in Reserve | 200,000,000 | Release or Burn after 3 year vesting |
| *Community 60% Minted | 300,000,000 | |
| Operations 20% Minted | 100,000,000 | |
| *Insiders 20% Minted | 100,000,000 | |
| | | |
| Total | 700,000,000 | |
*Insiders will be required to Pool their Tokens for Year One of Certicos participation on Centralized Exchanges to the Community.  This means a vesting will be conducted that has the Steering Committee Members contribute their tokens by pledging them to CEXs.  This will be by percentage share of Steering Commitee Members "pooling" their tokens to fund each exchange.  This thereby eliminates the ability to Rug Pull by Insiders as their tokens will be the tokens made available to the exchange communities.
A Certicos Coin (BEP-20: CERT V2) is a form of Deflationary Cryptocurrency that was developed as the mechanism for transacting  to capture document transmittals into a Staked Blockchain storage system using IPFS (Interplanetary File Storage). In this respect the Certicos Token acts as a coin to transact the creation of an eSignature document on the Certicos Blockchain*. Each time a Creator (user) creates an eSignature document and submits it to either themselves or others; a quantity of Certicos Coins is required to complete and store that transaction in the Certicos blockchain. This is called the gas fee (CERT). The amount of CERT required for completing a transaction (i.e. digital envelope) is a fixed equivalent tethered to the USD price for a First Class US Postage Stamp (Labeled).
It is the intention of Certicos to use the US Postage Stamp rate for the price of the equivalent envelope service in kilobytes when the platform moves to Central Exchanges.
*The CERTICOS Coin Ecosystem Transaction is on the platform. When removed from the platform the CERTICOS Coin becomes a Token as it is a BEP-20 Token on the Binance Smart Chain Network (i.e. BSC Scan); meaning that all on site Certicosign.com transactions register only on the Certicos Blockchain. Only when transactions are moved off the platform to an off-site wallet does a BSC Scan Explorer transaction occur.
Business Model Framework 
Certicosign.com uses the indigenous CERT Coin to transact and save documents using IPFS Interplanetary File Storage as an alternative to traditional cloud storage. Because of the encrypted nature and immutable features related to IPFS; documents are completely encrypted (48 Bit) with their data and signatures and are only accessible on the Certicosign platform which acts as a key or portal to view and download the documents after creation. Unlike other eSignature companies, Certicosign works entirely on the indigenous CERT Coin to run the blockchain and maintain a storage plan.  The benefit of using the CERT Coin innovation offers tremendous cost savings to users of the platform whom can either upload or create documents within the Certicosign Document Center.
Additionally,  users who are Approving documents actually benefit as well by receiving a commission for each transaction**.
**The value creation results in an accrual of CERT Coins for usage in the form of Airdrops (see below) and earning (commission) of CERT Coins for those that participate on the platform. This Creates an unique award for those that participate in the form of a Utility with a functional value.
Market Cap Potential
The eSignature Document Market is dominated by Docusign which has a

8.33 B

Market Cap (at this writing) and controls about 55% of the eSignature Market*; but let's not forget Adobe which also has entered the eSignature arena and has a Market Cap of

271.9B

Market Cap that controls about 12% of the market.  There is at least 20 more eSignature Document Companies making up the remainder (

PandaDoc

$1B,

Formstack

$425M,

Hellosign

$230M,

ReadySign

$1.6B,

GetAccept

$30M(?),

SignIn

$5.5B,

Zoho

$1.0B,
SignEasy
So what does this all mean?  When Certicosign goes live we have to chose a token value that places us at a level of our Market Potential.   You have seen from our Home Page video, these are all Web2.0 companies, they do not have a Crypto Token, they do not have a Blockchain, they do not accept Crypto, they are not Web3.0 friendly.
Certicos does not have Venture Capital Money, Certicos has over 12,000 Wallet Holders, and a Telegram Community of 16k Members. Certicos aims to service the Global Community.
So what is Certicos CERT V2 Token Market Cap?  We will find out soon enough….thanks for tuning in.
* Estimated Market Shares per

6 Sense

.
eSignature
Provider
Market
Share
Docusign
55.10%
Adobe Sign
11.89%
Smartwaiver
10.23%
SignRequest
8.07%
HelloSign
3.68%
RightSignatures
2.22%
PandaDoc
1.51%
Scrive
0.01%
MyLiveSignature
0.49%
RPost
0.42%
Sertifi
1.47%
OptSigns
0.30%
Eversign
0.30%
eSignGenie
0.20%
Signaturit
0.10%
Nitro
0.10%
Omnivex
0.10%
Legalesign
0.10%
Token Distribution
Stage 1: Site Presale begins November 17th, 2023- November 28th, 2023 (ENDED)
The Public Presale will consists of CERT V2 Coins made available on the Certicosign.com website for purchase through  other Cryptocurrencies.  Any amount not sold in Pre-Sale will rollover to any IEO/IEC DEX Launchpad.  The Presale is expected to last 7-15 days; and goal is to sell 1.8M tokens @ .055 each.
The Pre-Sale is expected to choose the following tokens as a one way SWAP into CERT V2 Token.  You will be able to purchase CERT V2 Tokens at a substantial reduced price until they are liquidated.  You will need to setup the CERT V2 Token in your wallet to reveal the Token.
$CERT V2 Token Address:  0x194a3e48796305c148C5c8E82FbeBfEad26F32fE
Decimals: 8
Name:  CERT
Network:  Binance Smart Chain (BEP-20)
Stage 2: CEX Launch (Target December 2023)
After Pre-Sale ; Certicos will participate in a CEX Launch with a major exchange.  Launch pricing will be set at .067 USDT per CERT.
Reward accrual and Revenue Streams
Storage Plan Incentives: The Creators of documents are required to have a storage plan for documents. Certicos already has one of the lowest eSignature industry standards for document storage, and the only one that actually uses IPFS storage.  To further incentivize. users that conduct high volume (i.e. number of transactions) will be upgraded in their storage plans. As an example, if a user signs up for a Basic Storage Plan that is tokenized in value in Certicos and shows a high volume of transactions, they will be upgraded to a larger storage plan
Certicos Launch Roadmap
The CERTICOS Coin is a BEP-20 token on the Binance Smart Chain and it is the intent of Certicos LLC to introduce and make the CERTICOS token (BEP-20) available on numerous global Crypto Centralized Exchanges (CEX) Globally in 2023.
---
Phase 1: BETA Testing Mode / Pre-Sale – COMPLETE
Phase 1:  September 2023 – mid November 2023:   BETA Testing Pre-Sale of Token on site
UPDATE  June 14th: Site is LIVE for BETA Testing. Full functionality exist for uploading and creating eSignature Documents and submission to the Blockchain.  Highlights of BETA Testing is to have actual BETA Testers on board to assist in feedback and reward participants with Tokens and build Community with all Users.  Certicosign Wallet is fully functional accepting BNB, ETH, and tethered to both USDT and USDC. 
Implement and utilize customer support chat features and complete tutorial videos based on BETA Tester feedback.
Additionally, we are offering a reduced pre-launch token pricing for recoup development cost, and fund transaction fees and will be conducting a limited advertising campaign on Twitter, Telegram, and Instagram to promote the Certicosign Site and capabilities. 
Special Programs:  Airdrop(s) planned for July  2023 to build community for users  on the platform and populate outside Wallets.    Moving your Certicos Token to Metamask Wallet
---
Phase 2: November 2023 – December 2023:  Pre-Sale  – ENDS November 28, 2023
Anticipated conducting a brief Pre-Sale at a substantially reduced pricing for a limited time and quantity. Certicos will also have a security audit conducted during this time.
Certicos will accelerate advertising and begin creating AMA and User Case videos and any training videos on how to create your own online documents with our CSS/HTML document creator.
Implementation of Web 3.0 Features.
---
Phase 3:  December 2023:  CEX Crypto Exchanges
Listing on Centralized Exchanges to be announced.
How a CERTICOS Coin Works
Think of a CERT Coin as a token at a car wash or a ticket for rides at a Fair or Carnival. You buy the tokens at the token machine (Certicos Wallet) and use them to wash your car inside the stall (i.e. the machine); or, in the case of a Carnival – the ride.
It's that simple ! The CERT coin essentially covers the gas fee to transact your eSignature documents in your digital envelope on to the Certicos Block Chain. It does all this for the cost of a First Class US Postage Stamp (Labeled) to anywhere in the world ! This is a fraction of the cost of the legacy eSignature competitors with no monthly subscription cost.  Document Creators pay an extremely low storage fee within the IPFS System in Certicos Tokens; and, your file is encrypted and sent to +50 servers around the world making it immutable (i.e. can not be changed).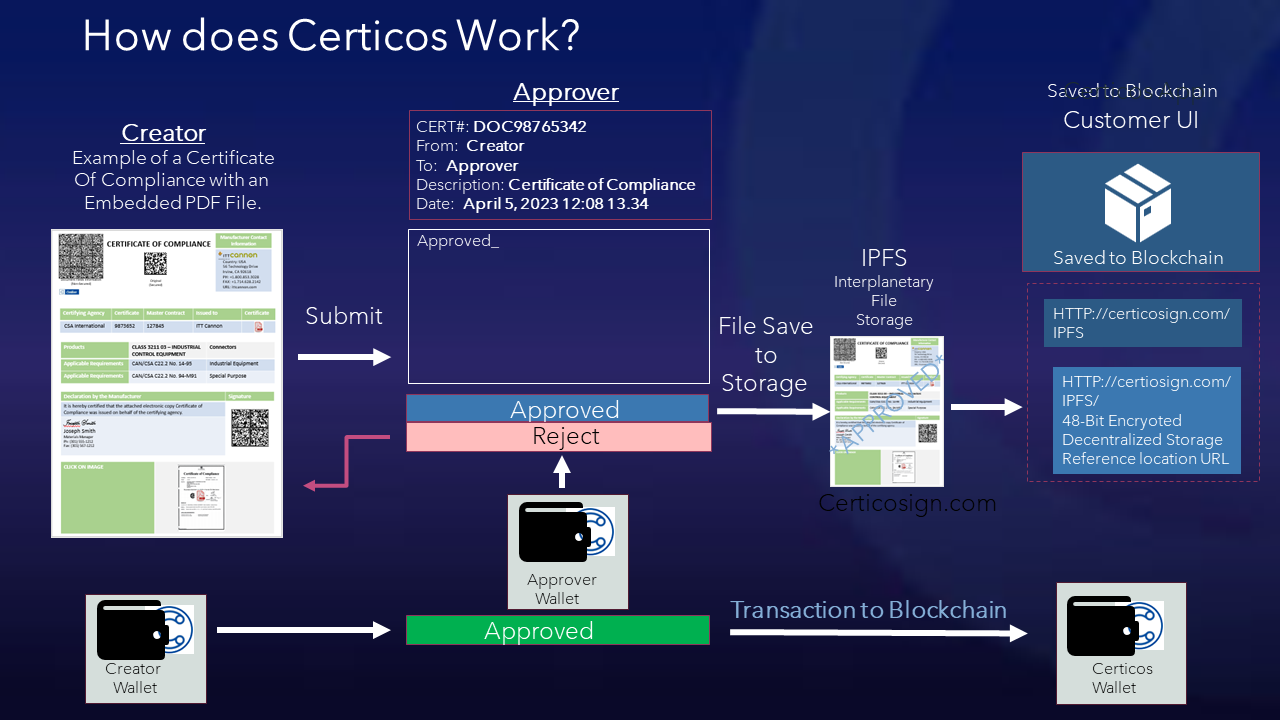 What are Some of the Industries that Can Use CERTICOS
Certicos can be used by a number of businesses or for personal use. Certicos is a repository for both eSignature documents and certifications.
Advertising
Media, Brand Identity, Promotion, Media Planning
Agriculture Industry
Traditional Agriculture, Terrace Farming, Slash & Burn
Aircraft Industry
Manufacturing, Repair and Overhauled, Flight Services
Automotive Industry
Manufacturing, Parts Supply, Repair Services, Verifications
Construction Industry
Building Construction, Heavy Engineering, Landscaping, Trades, Architecture, Interior designs, Materials
Creative Industries
Art, Performance Art, Crafts, Music, Film & Entertainment, Design, Fashion, Culture
Entertainment Industries
Media, Sports, Attractions, Museums, Cultural Events, Performance Arts, Video Games, Music
Finance
Financial Management, Financial Analysis, Financial Metrics, Risk Management, Assets
Green Industry
Manufacturing, Services, Energy, Farming, Transport, Forestry
Hospitality Industry
Lodging, Food & Beverage, Recreation, Entertainment, Health & Sports, Travel, Tourism
Information Industry
Software, Media, Consulting, Business Process Outsourcing, Professional Services, Research & Development, Data Services
Information Technology
Computing, Coding, Algorithms, Automation, Business Software, Cloud Computing, Artificial Intelligence, Hardware, Platforms, System Integrators, Robotics
Infrastructure
Business Infrastructure, Critical Infrastructure, Data Infrastructure, Digital Infrastructure, Public Infrastructure, Network Infrastructure
Medical
Medicines, Equipment, Providers, Hospital Services, Pharmaceuticals, in-patient services
Space
Space Industry, Components
Telecom
Equipment, Managed Services
How does CERTICOS Support Supply Chain?
Certicos supports a number of certifying or authenticating documents for business utilizing supply chain documentation such as Certificates of Compliance, Certificates or Origins, Certificates of Conformances, Certificates of Authenticity.
You can upload your existing Certificates and add fields to complete; or, build your own Certificate online with our Document Center using CSS/HTML in a simple to use ergonomic panel.